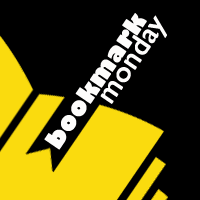 Since I collect bookmarks, thought it would be fun to join the
Guiltless Reader
for her Bookmark Monday posts!
It's no secret that Jennifer Estep is one of my favorite authors, so whenever she offers new bookmarks to her fans, I'm there! All she asks is for you to send one SASE and she will generously send new bookmarks. I've gotten them before and love them, so was anxiously awaiting the newest set! Unfortunately, the Post Office had other plans.
I received a plastic envelope with several chewed up bookmarks and a label stating "We Care", explaining that they do their best but hey, accidents happen. Really, Post Office? Really? If you cared, you wouldn't have eaten my bookmarks!
A moment of silence for the sad victims…
But wait, there were survivors!
I'm not sure what happened to all of the bookmarks as there weren't enough pieces to put Humpty Dumpty back together again, but thankfully there were some left intact! And a cute little notepad survived, so I'm happy!
You did your evil best Post Office, but you cannot defeat The Spider!
This content is owned and copyrighted by alexia561.blogspot.com.