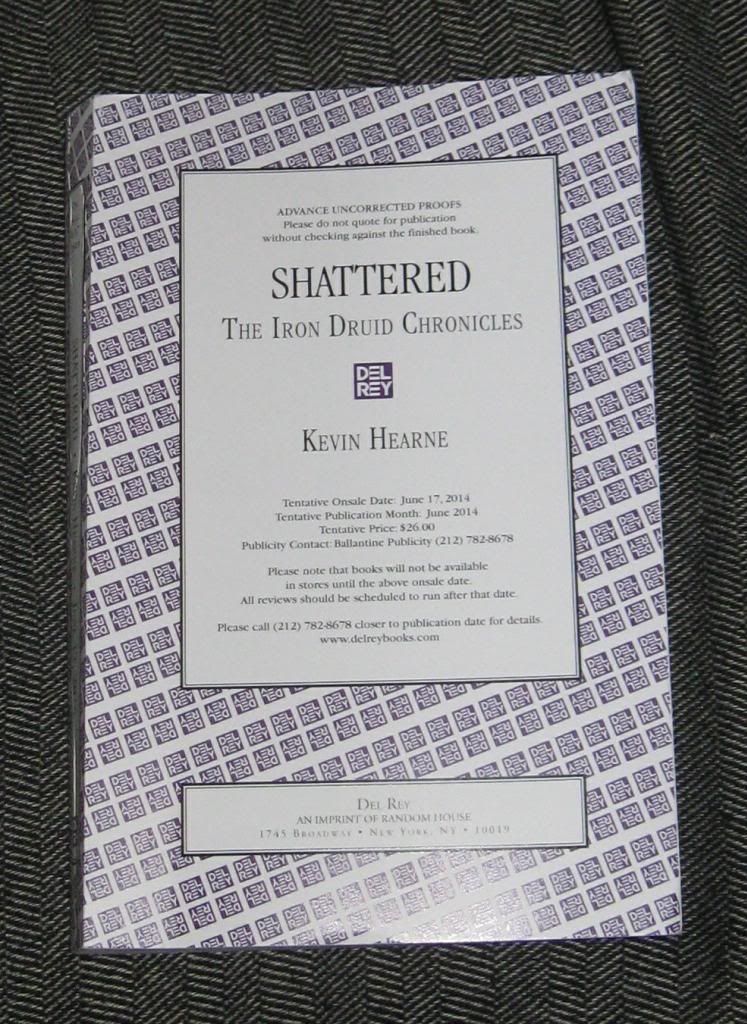 Title:
Shattered
Author: Kevin Hearne
ARC received via Amazon Vine in exchange for an honest review

For nearly two thousand years, there was only one Druid left walking the Earth – Atticus O'Sullivan, the Iron Druid, whose sharp wit and sharp sword kept him alive while pursued by a pantheon of hostile deities. Now he's got company. (Goodreads)
My Thoughts:
We get to meet another Druid in this book; Atticus' archdruid, who trained him way back when. And what a character! Renamed Owen to fit in with the modern world, he's a crusty, no-nonsense man who isn't afraid to cut Atticus down to size and put him in his place when needed. Loved that!
In this story, Atticus takes turns narrating with Owen and Granuaile. The multiple points of view were easy to follow and added a nice depth to the story. Unfortunately, it took me much too long to catch onto the fact that each chapter heading had a symbol to let you know who was narrating that chapter. d'oh!
Really enjoyed Owen's introduction to the modern world, although he took several things in stride that I thought would stump him. It was nice to see the old Druid hold his own without Atticus having to babysit him!
And while Oberon the wolfhound will always be my favorite character, I was thrilled that Granuaile got her own wolfhound as now Oberon will have a playmate! Looking forward to these two getting to know each other.
Really enjoyed this one, but think it would be best enjoyed if you've read at least some of the previous books. The author is very talented and has come up with some great characters! Can't wait for the next book!
This content is owned and copyrighted by alexia561.blogspot.com.