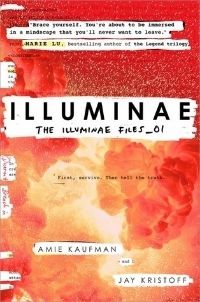 Title
:
Illuminae
Author
: Amie Kaufman
Release Date
: October 20, 2015
Publisher
: Knopf Books for Young Readers
Source
: ARCs provided by the publisher via NetGalley and BEA
This morning, Kady thought breaking up with Ezra was the hardest thing she'd have to do.

This afternoon, her planet was invaded.

The year is 2575, and two rival megacorporations are at war over a planet that's little more than an ice-covered speck at the edge of the universe. Too bad nobody thought to warn the people living on it. With enemy fire raining down on them, Kady and Ezra – who are barely even talking to each other – are forced to fight their way onto an evacuating fleet, with an enemy warship in hot pursuit.

But their problems are just getting started. A deadly plague has broken out and is mutating, with terrifying results; the fleet's AI, which should be protecting them, may actually be their enemy; and nobody in charge will say what's really going on. As Kady hacks into a tangled web of data to find the truth, it's clear only one person can help her bring it all to light: the ex-boyfriend she swore she'd never speak to again.

Told through a fascinating dossier of hacked documents – including emails, schematics, military files, IMs, medical reports, interviews, and more – Illuminae is the first book in a heart-stopping, high-octane trilogy about lives interrupted, the price of truth, and the courage of everyday heroes. (Goodreads)
My Review:
Illuminae is a fun read, mainly because it's told through a collection of transcripts, emails, reports, interviews, etc. Very clever, but not at all difficult to follow.
The story starts off with a bang, as the two main characters are interviewed about what happened the day of the attack. Which just happened to be the day that the couple broke up. What lousy timing!
Due to a personnel shortage, Ezra is conscripted as a fighter pilot. Kady wants nothing more than to keep her head down, despite having a way with computers. She deliberately fails the assessment tests and winds up using her talents to hack into the system to find out what the authorities aren't telling the survivors. What she finds is not reassuring.
Remember HAL from 2001: A Space Odyssey? AIDAN, the AI on one of the ships, reminded me a little of HAL when he decides that he is right and the humans are wrong. Every time AIDAN replied that he was unable to comply with an order, I heard:
AIDAN just wants to protect the fleet, even if he has to destroy it. Bummer when an all-powerful artificial intelligence goes rogue.
Really enjoyed this story, though I don't usually like sci fi space operas. I don't really think it's science fiction, despite taking place aboard spaceships, one with a rogue AI computer. Guess because there wasn't too much science talk, which makes my eyes glaze over immediately!
This was a fast read for me, despite being a little over 600 pages. The story sucked me in right away and I read it in less than 48 hours! I usually shy away from big books like this, but the premise was too good to ignore and I'm so glad I didn't let the size intimidate me.
Great characters, a fascinating premise with a fast-paced plot, awesome writing, and OMG the suspense! I was frantically turning pages to see what happened next!
Highly recommend this book to anyone looking for a great read! Even if you don't normally like science fiction or YA, I think you'll like this one! Yes, it's just that good.
P.S.
Approved for a review copy by NetGalley, my friend Tammy sent me an ARC from BEA as well. I recommend reading the hard copy because there are certain pages that are a little hard to read digitally. Not impossible, but the physical version is easier.
This content is owned and copyrighted by alexia561.blogspot.com.