Parajunkee
is hosting a Better Blogging Challenge again this year. She hosted something similar for 2014 and I had fun taking part, so thought I'd try it again this year! I like that the challenge is pretty flexible and you're not locked into doing every single task.
The flu hit me pretty hard earlier this month, so I'm playing catch-up.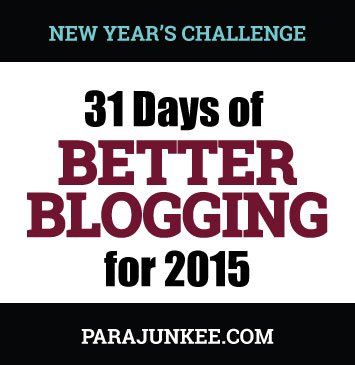 Day 7: Highlight Your Popular Posts
Your task today is to discover which posts are your most popular post and highlight them on your sidebar or in a post.
Have to admit that I'm a little conflicted about this one. I'm hesitant to add another widget to my sidebar, and the "if you liked this" suggestions at the bottom of posts didn't work out too well last time I tried it.
Isn't having my archive on the sidebar enough? Does anyone look for the most popular posts on a blog? Inquiring minds (mine) want to know!
Day 8: Recycle Your Posts
Your task today is to recycle a post from a year ago – or longer.
This is another task that I have mixed feelings about. Most of my posts are reviews, so I'm not sure how I would update them for recycling. Unless I did a reread review, but it's been ages since I've reread anything so that's probably not an option. Maybe a post featuring some of the series I've read? Or a Top Ten list of favorite reads with links to the original reviews? Any suggestions? Or should I stick to new content only?
Day 9: Social Media Checks & Balances
Your task today is to clean up your social media. Unfollow people that aren't needed and focus on the social network that works for you!
This task was pretty easy for me, as I use the same avatar for all of my accounts so no need to update. I already have my Facebook and Twitter followers in different lists, but I'm not ready to unfollow anyone at this point.
I'm hardly ever on Twitter, but I've started spending a few minutes every day checking my feed and retweeting anything that catches my eye. I'm doing the same thing on my Facebook page.
Not quite ready to check out my "competitors" to see how they handle social media. Where would I even start? Do I even have competition? I have friends and people I follow, but I don't really think that we're competing for anything.
I have set up a spreadsheet to track my blog stats on a monthly basis. Surprised to see that I get so much traffic from Pinterest, so think I need to start spending more time there. I also set up a Tsu account, but that seems a little stagnant right now. Maybe because it's still so new?
In case you'd like to connect, here are my social media links:
Facebook
Twitter
Tsu
Pinterest
This content is owned and copyrighted by alexia561.blogspot.com.